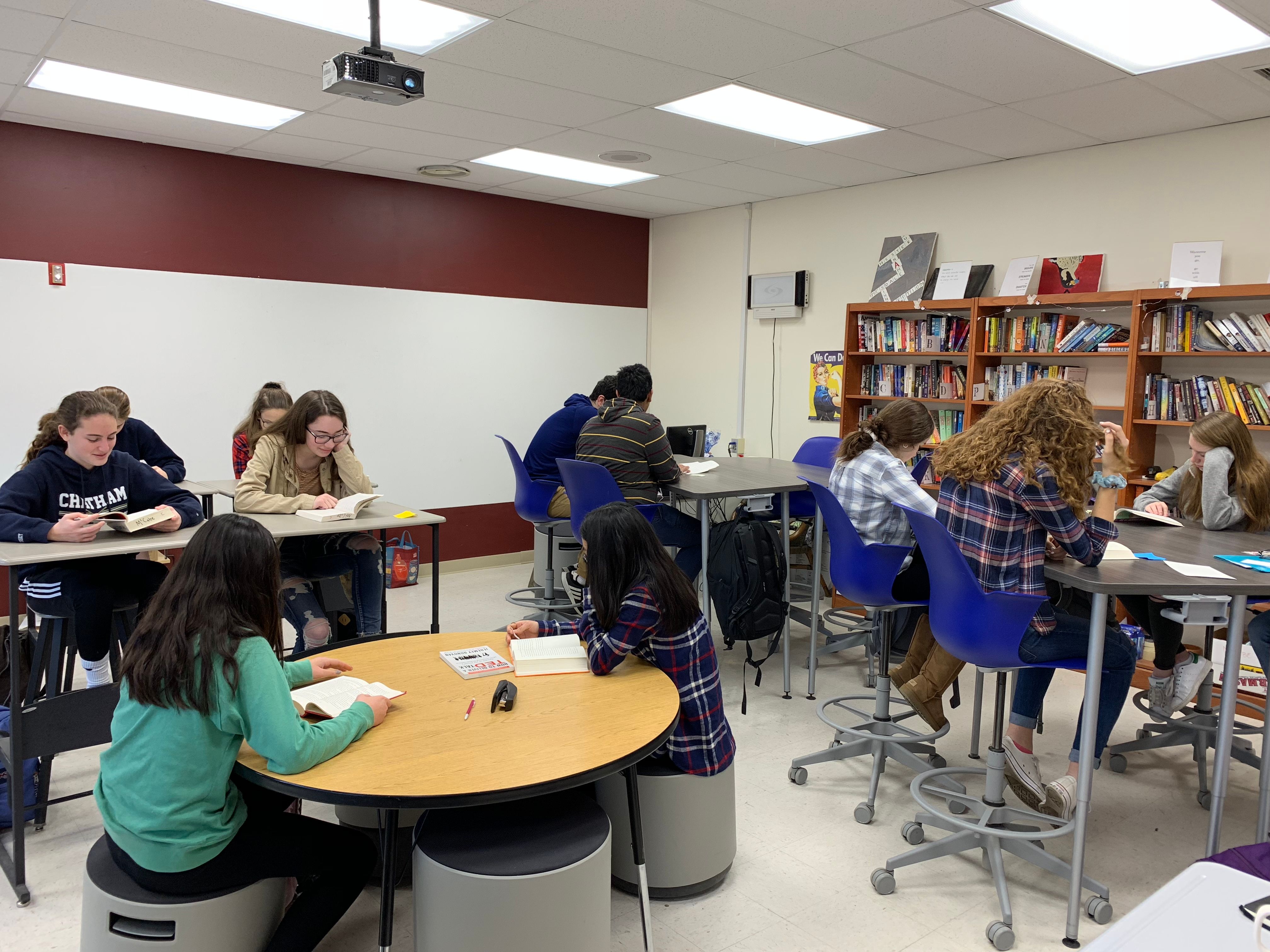 Christina McCabe, high school English teacher at Chatham High School, was on to something.  The question was how do you get kids to read? How do you get the kids who don't think they like to read to like it, to embrace it, to yearn for it? How do you compete with technology, social media, video gaming, and an increasingly distracted society?  Like all great ideas, the answer lay in a deceptively simple concept. The answer is you give them books they love. We are not talking about books that are simply interesting or "good." We are talking about the types of books that you grip in both hands, reading late into the night with your mind on fire and your heart caught in your throat.  We are talking about books that speak to you, books that draw you into those shadowy spaces in your soul that come alive under the spell of the written word.
SDOC ELA supervisor Heather Rocco spearheaded an independent reading initiative District wide with the intent of building a culture of readers.  The first few minutes of an ELA class are spent reading independently. Every student is a reader and always has an answer at the ready to answer the question, "What are you reading?"  Ms. McCabe credits this movement for generating widespread enthusiasm for reading. It is this initiative which moved her to request a grant from the Chatham Education Foundation (CEF), titled "We Need Diverse Books!"
While the pantheon of literary classics, which includes novels such as The Sun Also Rises, Tender is the Night, Catcher in the Rye, The Handmaid's Tale, 1984, Animal Farm, and To Kill a Mockingbird to name a few, are undisputed for their place in American letters and are still of pertinence today, the last two decades have witnessed an avalanche of new writers with wildly diverse voices and stories to tell.  These works, both fiction and non-fiction, have explored identity, art, culture, medicine, health, globalism, gender, feminism, technology, climate, politics, love and longing all against the backdrop of the 21st century and the world we have come into and are constantly creating.  They are relevant to students today because of the important stories and ideas they convey relating to the world we currently live in.   
Christina McCabe sat down and carefully curated a list of 203 books.  It is a list wide in breadth and literary and academic scope, with titles such as When Breath Becomes Air, Unbroken, All the Light We Cannot See, The Hate U Give, One of Us is Lying, When Dimple Met Rishi, Girl Rising: Changing the World One Girl at a Time, The Glass Castle, Everything I Never Told You, Divergent, Ghettoside: A True Story of Murder in America, Ready Player One, Alexander Hamilton, Revolutionary, Brain on Fire: My Month of Madness, Dare to be Kind: How Extraordinary Compassion Can Transform the World, and The Book Thief, just to name a few.   She took her list of 203 books to the CEF in the form of a grant application both for the books and for a library management system which would allow students, both in her English classes, and school wide, to check out books easily, and of equal importance, to ensure their safe and efficient return to the classroom library.  No system existed at CHS that could accomplish both of those tasks.
In 2018 the CEF granted Ms. McCabe approximately $2,500.00 for the purchase of the 203 books and also the purchase and installation of the Libib library management system.  This revolutionary grant has transformed the readership at CHS. Ms. McCabe has deemed the addition of the 200 plus books to be a "total game changer" for her students' reading lives.  To quote just a few of her students:
"When the book is good, I tend to read at home and finish books fast.  This library motivates me to become a better reader. I want to read more and more books because each book has different topics present, and it is cool to read about all different types of people."    - Kylie Finkelstein, 9th Gr.
"I like it a lot.  I am absolutely in love with the book that I am reading now.  I am not one to go home and read, but because of this book I do just that.  I will read every night before bed and I am excited about it. I wish we had more time in the beginning of class to read!!" -Maddie Brashear, 9th Gr.
"I love the selection of books.  They let me see the world through a new set of eyes, teach me life lessons, and show me the real world and what life is like outside of Chatham." -Fiona Rauch, 9th Gr.
One student left for vacation last summer with 15 books in her backpack from Ms. McCabe's newly acquired inventory.  She gave her teacher fastidious and detailed reports on each one upon her return in the fall. The library has also allowed McCabe to stay connected with her former students.  When they pass her by in the hallway, she asks them what they are reading, and she is able to suggest a book they might like from the expansive library awarded by the CEF's grant.  
CEF is proud to help build upon the English Department's reading initiative and sustain a culture of readership within the Chatham schools, to foster a love of reading, and to partner with one of Chatham's most ambitious teachers in such a far-reaching project that has already effected such positive transformation.  Last year one of Ms. McCabe's Concepts students struggled to stay focused during independent reading time. This academic year, the student has been an avid reader of the books awarded by this literacy grant and is not only focused but also passionate about the reading material. McCabe views reading to be an act of empathy, in the words of Atticus Finch – "You never really understand a person until you consider things from his point of view…Until you climb into his skin and walk around in it."  Providing students with fiction and non-fiction texts that explore different races, mental illness, and social injustice are some of the ways in which we nurture empathy. CEF commends Ms. Heather Rocco and Ms. Christina McCabe and their visionary efforts.